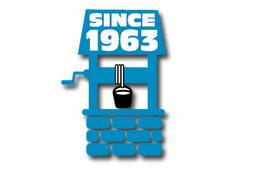 At Greco & Haines, we pride ourselves on our well water service and installation from start to completion.
We would like to thank OUR CUSTOMERS for choosing Greco & Haines, Inc.!
"Good Morning, Please extend our sincere thanks and deepest gratitude to the wonderful person who answered the phone this morning. She immediately recognized our problem … as a result from a nasty thunderstorm and she was very patient and understanding. Needless to say, she solved our problem. Excellent service! With many thanks" – Bob P. Old Saybrook, CT
"On 3/8/2022 we had the pleasure of using Greco & Haines for the first time; you have gained a new customer and a behind the scene salesperson. Your staff (Paul) prior to the install were prompt with return calls and very informative on what needed to be completed and why. From our first communication to the completion of the install your employees were polite, on time, and professional. The two men who did the install took time to be considerate of our home, placing down walking tarps, they were very organized and neat. When the job was completed you could not tell they had been here except for the new equipment. Their clean-up was outstanding. (They passed the wife test) Please share with your staff our great pleasure having Greco & Haines do this install." – Tom & Anna B. of Sandy Hook, CT
"I would like to thank you and your Team for the prompt and efficient service this past Tuesday. As you know when the water stops it not a good thing. [Greco & Haines representative] did a great job of finding the problem and resolving it in record time. This is second time that [Greco & Haines representative] has come to my home and has made you and your Team shine as the example of how a service company should operate.
He had all the parts and supplies that he needed to do the job on his truck and as you know most services company are not this prepared. He and his assistant were professional and polite and a pleasure to deal with. They cleaned up after they were finished and you would never have known they had worked on the system. You and your Team have set a great standard and it is why when I have a water problem you are my first call.
Again I would like say [Greco & Haines representative] are a credit to your company and are welcome to my home anytime I have a problem. I feel that they convey such responsibility that I do not have to be home when they come to solve a problem. There very few services companies that I feel this comfortable with.
You have set a great standard for your company and Thank all the folks on your Team at the office that help [Greco & Haines representative] look good out in the field. Best Regards" – Tom of Killingworth CT
"I have been using Greco and Haines for my water treatment needs for many years!! My water is awesome!! They are always prompt, courteous and professional. They know everything there is to know about water and I'm glad my water is in their hands!!! " – Linda of Woodbury, CT
"We are very impressed with the response to our emergency call, from the technician that returned our call within minutes, the scheduling dispatcher first thing the next morning, and the two employees who were courteous and informative. The problem was diagnosed and rectified much more quickly and at much lower cost than we anticipated. We are very pleased with our first experience with Greco and Haines, and will recommend this company." – Ellen of Riverton, CT
"I just wanted to thank you for your extraordinary service the other day. We thought we had an issue with our water conditioner. We spoke with [a water system designer] on the phone and he was there the next day. He was so professional and so courteous, checked everything out, and didn't even charge us for the call. I always find your technicians knowledgeable and professional. I'm never disappointed. Thanks for your fine service." – Tom of Guilford, CT
"It was a pleasure doing work with you and the G&H team. From start to finish, it was great. Your helpful discussion of options and competitive pricing were a major contributor to the sale. It was gratifying to find that you routinely included features that other companies touted as their competitive advantage (e.g. copper supply piping, lever shut off valves, etc.) Having been a G&H customer for 25 years, I was already familiar with the level of service I could expect. The installation workers did a great job. Please pass along my appreciation." – Michael of Newtown,CT
"My daughter Edith and her husband Kevin would like to thank Greco & Haines for its excellent service in upgrading her well water supply system, in particular the crew who installed this new system. I just took a look it's indeed beautiful. Also, I had our electrician put two receptacles for power supply to the new system. Now, she has a system like ours which also has been serviced by G&H. With thanks," – C.C. of Woodbridge, CT
"I have been a customer since 1971. Your technicians were here on Monday to install my water treatment unit. They did an excellent job, very professional, neat, and clean. They explained everything well and as always, I was very satisfied with the service tech's and Greco & Haines. I always call Greco & Haines for my water systems needs and will continue to do so. I wanted to say thank you for a job well done!" – James of Beacon Falls, CT
"I want to take this opportunity to thank you for the great job your men did at our home on Thursday November 21st. Both my husband and I were very anxious about digging and replacing the well in our home but they started and completed all the necessary work in 6 hours. We couldn't have been more thankful that it was done so quickly and efficiently. The men were great and my husband and son were there every step of the job. They explained all that they were doing and how the equipment would work and everything is running great! Not only did your two guys work it all out professionally but also the other guy you picked to do the digging was a real professional.Thank you for making our experience so easy and let the men know how much we appreciated all they did." – Nick & Pat of Newington, CT
"I want to compliment one of your employees that went out of her way to help me. I'll explain, in July of 2013, I had a water tank that needed to be replaced and I called Greco & Haines to do it as your company had done well work for me before. At the same time, I had a water filter put in as well. Now almost 6 months later, I need to change the filter. I thought I could do it myself. This would have been the first time the filter would be changed since installation. So this past Saturday, I stopped at Greco & Haines to purchase a filter. Not feeling as confident as I should be, I had some questions on the procedure to turn off the water to change the filter. The employee took me to the sample setup in the office to show me step-by-step of what to do. Well, I must have really acted like a knucklehead trying to follow the procedure. That's when your employee stepped in and said I will personally come to your home and take you through the steps. Instantly, I was so relieved. And that is exactly what she did…she had me handle the ball valves, open the faucet to relieve the water pressure, catch the water in a pail, use the plastic wrench to open the water filter, take out the old filter and drop in the new filter, tighten everything up, reverse the steps and the job was done. As I told your employee, I get overwhelmed by trying to take care of things by myself because my husband is no longer with me and I'm a senior citizen and just not up to the confidence I had when I was younger. I told your employee that sometimes all I need is someone by my side to say "it will be OK just do it" She showed me exceptional kindness at a time when I really needed it. She is a great employee for your company. Please acknowledge her kindness and for being a great representative for your company." – Sandy of Oxford, CT
I just want to take the opportunity to thank your organization for the fine work done by your two servicemen in swapping out my old WX 203 this morning. Their work was done neatly, quickly and without incident. They left the well tank area as they found it. I did not get their names. Greco and Haines is not the lowest price company, you do get what you pay for in life most times. Using your company was well (no pun intended) worth it to me. Please thank these two individuals for representing G & H in an exemplary manner. – Kevin of Monroe, CT

"Greco & Haines has attended to our water treatment needs for over 15 years. [Their representative] provided unparalleled service to my family during the recent water well rehabilitation at our home in North Canton. We have extremely challenging water chemistry problems (particularly manganese). [The representative] deftly;
1. Evaluated and diagnosed our dilemma
2. Identified the best solution – surging (correctly overruling my own naive suggestion of hydro fracturing)
3. Coordinated subcontractor service with the preeminent regional provider
4. Supervised the entire project, soup to nuts
5. Maintained constant contact with my wife and I
6. Rectified any issues that arose during implementation in real time
In short, I strongly recommend [your representative] and team to anyone experiencing difficulties with their water supply or quality.
My compliments." – Howard of North Canton, CT
"Two of your guys came to my house on Sunday because we had no water. I would like to Thank them and your company for your quick response. They fixed my problem and were very quick in trouble shooting it. Thank you. We will call you again, should a problem arise." – Michael of Colebrook, CT
"Thank you for getting back to me; I appreciate your prompt response. I received a callback and had a conversation earlier this morning before I saw your message, and now have some information and options to consider. No wonder you're #1 in the state!" – Daniel from W. Simsbury, CT
"Thank you for the fast prompt service, the Guys that came and fixed my well were prompt, neat and no nonsense guys that fixed the problem. I would recommend your firm to others." – Peter of Berlin, CT
"I hated our expensive dishwasher. The food stuck to the dishes and there was a white film on everything. We finally called Greco and Haines thinking that it might be a water problem. You showed us that it wasn't our dishwasher, but our water that was the problem. After installing a state of the art water treatment system, our dishwasher performs beautifully and our dishes are finally clean every time. Thank you, Greco and Haines!" – Brad and Kathy from Wilton, CT
"Your guys were absolutely terrific. On time, courteous, neat and did an incredibly amazing job! I'm so pleased and thank you so much. Congrats on such great employees." – Jan from Hamden, CT
"Just wanted to thank you and the guys for the great service, which is why we remain loyal customers. The guys were courteous, very neat and did a great job. Thanks to all!" – Richard from Madison, CT
"Just wanted to say thank you for wonderful service! The servicemen came out today to see what was wrong with our well system – it had been forcing air through the pipes and faucets, but mainly in the mornings. They came out the day I called. They were right on time, very professional, pleasant and polite, patiently answered my questions and explained how our system worked. They discovered the leak (in our well system) within a few minutes, fixed it, gave me some tips, and were done within 90 minutes. After the recent dealings we've had with a few "criminal contractors," this has restored my faith in service companies!
We've used G&H for more than 15 years and would recommend you highly. I looked to see if you were on Facebook or Twitter, but couldn't find you to tag a recommendation, so am emailing you instead. Thanks again!"– Susan from New Canaan, CT

"I was very happy with your service at my home today. The servicemen were very courteous, neat, and a couple of really good guys. I appreciated their hard work and effort and I am glad that I found a company with the level of service Greco & Haines offers to their customers." – Suzanne from Oxford, CT
"I was very happy with Greco & Haines. The service technician was a "true pro". The solder joints look like they were done by laser!" – Eric from Shelton, CT
"The technician did an excellent job. You guys are very polite. It was a pleasure to have you in our home." – Carl from Easton, CT
"Thank you very much! People like you don't come along often anymore." – Anne from Watertown, CT
"Our technician was really nice and efficient. He was very informative and solved my problem." – Laura from Durham, CT
"Outstanding service throughout!" – Orange CT
"….your installers were thorough, careful, and left the area clean and in tidy condition!" – Bethel CT
"Thanks much for a job well done from beginning to end." – East Lyme CT
"More than satisfied with the work done….I would highly recommend your services to others." – Bethel CT
"(Sales Representative) was an excellent salesperson, very knowledgeable and professional." – Willington CT
"I was very happy with your quick service!" – Southington CT
"…they were the most courteous and knowledgeable workers….You could actually see the pride they took in doing this job for us." – Oxford CT
"This has been one of the nicest experiences that I could ever hope to have. I would recommend Greco & Haines to everyone I know." – Easton CT
"I would recommend your company to anyone interested in upgrading their [well] water system!" – Cheshire CT
"They arrive on time, do the job and charge fairly, what else can you ask of a business? They have been around 50 years , must make most of the people happy, they did me. Charge same rates on weekend and holidays as they do during the week, and their rates are reasonable compared to other companies in the same or similar business. Office staff was pleasant , servicemen were neat and clean and helpful. We would recommend them to anyone any time. Great company." – Annie C.
"The best in the State for a reason. They come on time, they do the job and get it right!I am sure they can't please everyone , but the certainly took care of myself and other friends.Always there when you need them, no worries about that.The office staff and servicmen are all friendly and helpful. I would suggest anyone using this company!" – Jeanne C.
"This company has been in business forever. They have a great reputation for doing the job quickly and doing it right. Prices are reasonable and comparable to other companies in the area." – Roxanne A.
"We cannot thank you enough for your quick and professional response to our problem of extra water coming from our well. When I called, Joe – the man I talked to – told me exactly what they could try to remedy the problem. He explained that there was no guarantee their service would solve the problem. IT DID. They came the morning after I called and the two young men were courteous and knowledgeable. It is a pleasure to do business with Greco and Haines. I couldn't recommend them more highly." – Beverly and Joe of Portland, CT
Valued Customers: If you have an emergency or require immediate assistance, please call our Connecticut toll free number 1-800-922-2958.
All inquiries left through our website will be responded to the next business day.